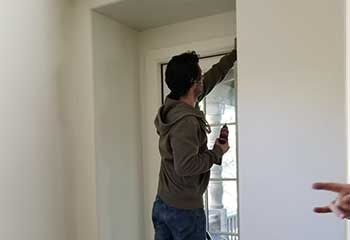 Vertical Blinds
Customer Issue: Mrs. Miderson has a long library window to cover, and knew that traditional shades wouldn't work well. Vertical blinds seemed like the best option.
Our Solution: After taking the window frame measurements, our production team got working on the blinds and track system. Since the window was shallow, we had to install an expanded sill to make room for secure track installation. Once the rollers were in and the strings hooked up though, the whole system looked natural and attractive.
Roseanne Miderson
- Agoura Hills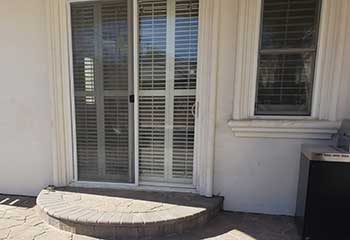 Motorized Blinds for Sliding Doors
Customer Issue: The customer was looking for easy to use blinds for his sliding doors and came to us for assistance.
Our Solution: After discussing various options with Mr. Harrison, he agreed that motorized blinds were exactly what he was looking for when it came to simplicity in operating them, thanks to being able to use a remote control. The blinds were custom made to suit the doors and were then installed by our team as soon as they were ready.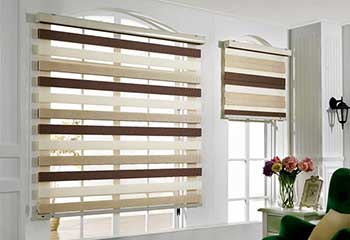 Layered Shades
Customer Issue: A window was overlooking a beautiful lake but too much sun was getting in and the customer wanted shades that could offer protection without running the view.
Our Solution: Our team recommended custom-made layered shades that will perfectly fit over the window, and will provide a flawless view while open and prevent the UV harmful effect when closed. The customer chose room-darkening fabric for the alternating horizontal segments.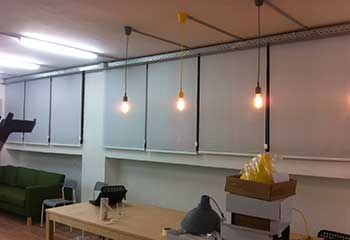 Motorized Venetian Blinds
Customer Issue: A modestly sized office suite had two double-sized and three single window frames that needed shades, and the proprietor wanted automatic controls.
Our Solution: Our team put together the Venetian blinds in both the requisite sizes, and our installation technicians made an afternoon project of installing them all and testing the remote controls, timers, and power supplies for each motor.
Mortimer McMyer
- Agoura Hills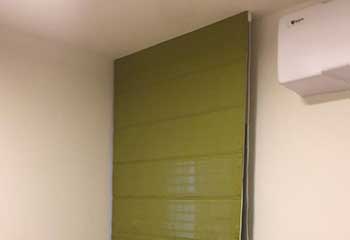 Roller Shades
Customer Issue: Mrs. Kris had an old bedroom to repurpose. Since the window blinds were old and starting to fall apart, she opted to replace them with some new roller shades.
Our Solution: Removing the old set of synthetic blinds was more work for our technicians than making the new shades or installing them, but they worked with what they had. The new drawcord uses part of the same housing as the old tape, and the shades fit the room very nicely.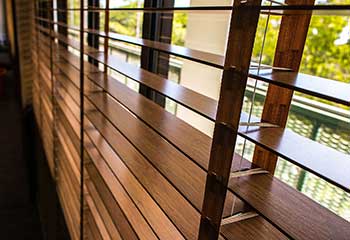 Faux-Wood Blinds
Customer Issue: The windows of Ms. Day's quaint little bed and breakfast hosting room needed to afford some privacy and light control, as well as match the old timey wooden walls and faux-wood linoleum surrounding it.
Our Solution: Fortunately for our design team, the bed and breakfast room had only two windows, both of standard bedroom size. The composite wood-vinyl panel blinds were framed and installed without any complications, and some testing worked out all the kinks with the control tape.