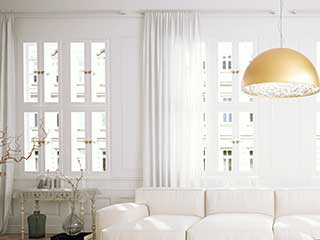 Curtains, drapes, and other window coverings make a statement in whatever room you put them in, to spectators inside and out. They're also very practical, protecting your wallpaper and furniture from the sunlight. Blackout curtains and drapes can let you sleep comfortably or bask in the light as desired. If you have windows to cover near Agoura Hills, you're in luck! Agoura Hills Blinds & Shades provides discount curtains and draperies and professional installation services to all nearby properties.
Drapes Vs Curtains
Is there a difference between curtains and draperies? The answer is yes, though the differences might not be obvious to the uninformed. Drapes are thick, heavy sheets of fabric that hang all the way down to the floor and can be pulled and tied back. Curtains are thinner, airier, and in most cases can only be slid from side to side. Drapes are more ideal for living rooms, large bedrooms, and hallways. Bedroom curtains are best for smaller rooms with less room, and curtains also do well for bathrooms, kitchens, and dining rooms. Of course, there are always exceptions!
Custom Curtains And Draperies
Our design team here at Agoura Hills Blinds & Shades works in wool, cotton, polyester, and just about any other fabric you can name. Custom drapes can be embroidered or embellished with designs, pictures, slits, and more. Curtains can become much more effective with some customization. Blackout curtains made from super-opaque fabrics, for instance, are perfect for bedroom windows. For extra class and finery, curtains and valences sets can give your windows an almost palatial quality!
Curtain Installation Services In Agoura Hills
Agoura Hills Blinds & Shades provides free estimates to help you choose the best designs, colors, and fabrics for any room. If your windows haven't had hangings before, you'll need curtain and drapery rods installed first. Any address within the Agoura Hills municipal area is in our service range. With our discount drapes and custom made blackout curtains, you'll quickly find the right fabric coverings.
Motorized Curtains Available
If you're having curtains installed, consider having them put in with an electric opener. Motorized curtains can be opened and closed with the push of a button, or on a timer. You'll never have to worry about forgetting to open or close your curtains in the mornings and evenings. With the addition of a light sensor, you can even have them adapt to changing weather and day lengths without any effort from you. Motorized curtains make for excellent window coverings. They can be made in any style, and their high-tech automation is in vogue with current and future trends.
Perfect Bedroom Curtains
Blackout fabrics are often the preferred choice for bedroom curtains, and for good reasons. You need to eliminate sunlight completely during hours when you want to stay asleep. Our bodies are designed to wake at the slightest sign of sunlight. Therefore, blackout curtains are a must for bedroom windows. Get a new set custom made and installed at your Agoura Hills home. Find out about discounts and affordable fabrics and other materials by scheduling a free consultation.
Call And Ask About Window Hangings
Agoura Hills Blinds & Shades is waiting to hear from you. Call us today, and get your custom curtains or draperies started! From blackout fabrics to sheer materials, any kind of window coverings you want are available with free estimates.