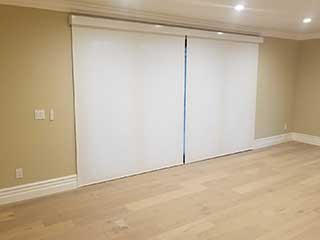 Adding some blackout blinds to your windows will make them lightproof, without needing ugly shutters. Made from a multilayered fabric that blocks all light, these blinds do their work without making the room feel enclosed or stuffy. Agoura Hills bedrooms, offices, and many other rooms need privacy and protection from the sunlight. They can all benefit from our custom made blackout blinds and shades. Choose the color, material, and design that works best for your budget, décor, and needs!
Custom Blackout Blinds Options
What gives a set of blinds the "blackout" quality is the reflective foam layer within the fabric that makes it light proof. Blackout blinds do not have to be black, or even dark colored at all. Agoura Hills Blinds & Shades's products are available in every hue and shade, from bright white to brilliant orange to dark navy blue or purple. Any room in your home or workplace can have blackout blinds of matching décor!
Blackout Blinds For Agoura Hills Bedrooms
With blackout fabric covering your bedroom windows, you can sleep or rise when you want to no matter how the sun feels about it. Blackout blinds offer the same benefits for a bedroom as shutters or solid slat blinds, but without the drawbacks. Air can still get in and out of your window if you leave it open, just like with any other fabric blinds. The soft texture of the blinds keeps your bedroom décor looking smooth and peaceful, unlike the more rigid alternatives. These blinds will also keep anyone from looking inside your bedroom window.
Blackout Blinds For Office Spaces
Keeping your Agoura Hills sleeping place safe from the outside is a no-brainer, but what about your working place? Direct sunlight can make it hard to look at your papers or computer monitor, and create an unpleasant environment for employees and customers. The ability to shut the world out of your workplace can come in handy, and blackout blinds offer a cheap and practical method of doing so. Longer, higher, and other nonstandard shapes of office windows are all compatible.
Electric Blackout Blinds
If you want to get the best savings in energy, convenience, and energy costs out of your blackout blinds, consider our motorization options. With a timer or a smart system, you know your blinds will always open and close in time! Protect your furniture and wallpaper. Prevent sleep interruptions. Manage your indoor temperature without needing to spare any time out of your daily routine. If you own a larger property, it can be almost impossible to remember every window, and a lot of trouble to get it all done. With Agoura Hills Blinds & Shades's electric motorized blinds, these issues all disappear.
Blackout Roman Shades
Roman shades are some of the most elegant window treatments out there. While open, blackout Roman shades form a pleated stack pressed against the top of the window. As the blinds lower to cover the window, the pleats loosen in a series of gentle, organic-looking ripples. Blackout fabric is thick, tough, and soft enough to make excellent Roman shade material. The added décor offered by these coverings gives them a multi-utility use. Blackout Roman shades combine decoration and elegance with modern home management technology.
Arrange A Consultation Today!
Whether its Roman shades or blackout vertical blinds you need, you can get them made to order and installed right at your Agoura Hills business or home. Give us a call to set up a free estimate and see all available options.