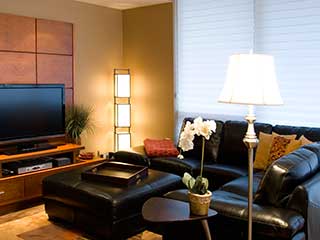 Roller shades are a very simple design of blind that many choose because of their ease of use, affordability, and availability. This style essentially consists of a headrail that has a long sheet of fabric wrapped around its core. The rail lets the sheet down to cover your window when you want privacy and protection from light and retracts the sheet when you want the window to be open. It's a style that will fit perfectly with all kinds of interior themes and offers safety for young users as well as frustration-free simplicity for adults.
Why Pick Roller Shades
Roller blinds are made using a sheet of flexible fabric. This makes them quite easy to customize to meet your needs, both at home and in the office. The sheet can be tailored to the exact dimensions you need and can come in a huge range of colors and densities to ensure you have the correct level of light and heat control you desire. If you want your shade to be very effective at keeping light out of the room, you should consider ordering black-out fabrics. We have a team of expert designers that can offer in-home consultation services if you need help picking the perfect set to meet all of your daily needs and to match your unique style.
Have The Perfect Size
Don't stick with blinds that don't fit your windows! Our experienced team of technicians can ensure that your blinds are sized to the correct dimensions of your windows. Many of the designs we offer can be made custom for you.
Want expert advice or to book a visit for an in-home consultation? Contact our friendly team today to get all the information you need!