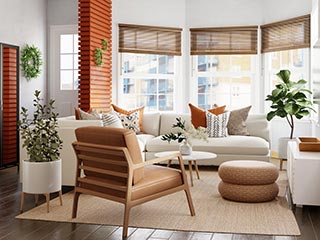 Keep the sunlight out of your eyes with these aesthetic and functional window treatments! Venetian blinds offer a classic solution to shading problems, providing a complete cover over the window while allowing for a lot of adjustment using vanes. Venetian-style blinds have become hugely popular for this very reason, as their classic build allows you to control precisely how much sunlight passes through the window at any given time. Adding Venetian blinds to your Agoura Hills house, office space, or apartment can be quick and easy with the help of our experienced team.
Consider Motorized Venetian Window Blinds
While their traditional manual style is very familiar and reliable, in today's day and age, motorized Venetian blinds have become highly sought after for the same benefits, and more. Opting for motorized blinds, Venetian-style enables you to enjoy the same precise sunlight control while also allowing for remote control and a lot more convenience. With blackout motorized Venetian blinds, you can lie in bed and draw the blinds without lifting more than a finger. The same goes for when you wake up in the morning and want to open them. Motorized Venetian blinds provide the perfect combination between traditional style and new and advanced remote control blinds technology, serving as the ultimate choice for this type of window treatment.
Local Venetian Blinds Installers Near Agoura Hills
Choosing between different designs and features can feel a little confusing sometimes. But with free estimates and advice from our specialized team, that won't be the case. Looking for a great deal on custom made motorized Venetian blinds for Agoura Hills area residences, businesses, or other? We've got the experts to provide guidance and consultation, free before you place an order! So get the best quality Venetian blinds at the most affordable prices nearby by booking your no-cost consultation appointment today.