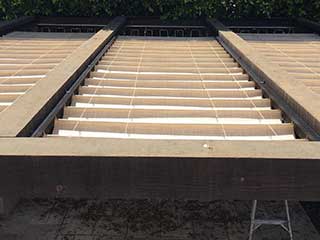 Living in the suburbs of Agoura Hills comes with a lot of convenience, with all the modern necessities close by. The area is also blessed with gorgeous weather for many months of the year. This is the type of climate where you can enjoy sitting in your yard to feel the warmth of the sun during the day, or do a bit of stargazing at night.
Waterproof Patio Shades
The weather doesn't always cooperate and when it doesn't, you can really appreciate covered outdoor spaces like patios. However, no patio can be considered complete without outdoor shades. The addition of these shades means more comfort and a stunning look for your home. You can choose the perfect patio shades for your home and make your exterior as stunning as your interior.
Remote Control Exterior Shades
One thing about outdoor living in Agoura Hills is that you never know when you'll be surprised by a strong breeze or sudden shower. Don't let a sudden weather change spoil your outdoor activities. With the right patio shades, you can enclose your patio and let the fun continue. Motorized exterior shades are a must for those with larger patios. Nobody wants to run around raising and lowering outdoor shades is time-consuming, especially as the sun is rising or setting. Take the tedious work out of this chore with motorized patio shades. You can raise them individually or all together to keep wind and rain from blowing into your safe area. If you are worried about the weatherproofing of your patio, you can also look at waterproof outdoor shades.
Custom Patio Shades With A Difference
If you've recently added a patio to your home, call Agoura Hills Blinds & Shades and get a free measure and quote for custom outdoor roller shades. No matter what size your patio area is, we can make custom patio shades to order. This personal touch will make your outdoor area unique while adding value to your home. Outdoor shades turn an ordinary patio into an additional space your family will get lots of use from and sun shades for patios make it easier to get through those long, hot summers. Check out our range of roll-up shades for outdoors for a look that will complement any home.
Perfect Covers For Pool Areas
If you're lucky enough to have a pool, you also know there are certain times of the day in Agoura Hills when it's not really safe to be in your pool. The hottest part of the day is also the time the sun can do the most damage to your skin and if you have kids who simply won't get out of the water, you've got a bit of a problem. Custom outdoor shades turn your pool area into a summer safe haven. You can choose waterproof exterior shades to cover part or all of your pool so you can enjoy splashing about, without the threat of sunburn.
Enjoy Your Morning Coffee
Do you enjoy having your first coffee of the day just as the sun is rising? The humble backyard deck is the perfect place to start your day with a hot cup of java but not if it's drizzling. Agoura Hills Blinds & Shades has the solution with a selection of deck awnings that add charm to your home and let you enjoy your quiet morning time without getting wet.
Get a Free Quote
If you're ready to add patio shades to your home's exterior, call Agoura Hills Blinds & Shades today. Our consultants will ensure you have the best outdoor shades so you can create your quiet, happy place just beyond your door. We offer custom shades in all shapes, sizes and materials or, for that little something extra, motorized outdoor shades for complete convenience.