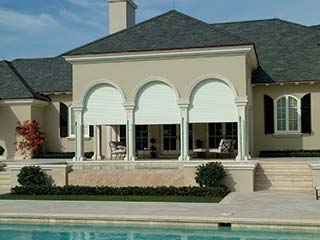 Blinds automation has become the popular option for shading solutions. Somfy blinds give you tremendous selections when it comes to not only remote control features but designs too. You can go with motorized roller shades in sheer or various blackout opacity levels, or go with stronger rolling shutters for maximum protection and security. Our Somfy motorized shading solutions offer Agoura Hills residents and business owners made-to-measure for their different properties. Choose the features and aesthetics that best meet all your needs.
Rolling Shutters – Large Window Covers
With a wall switch or a remote control handset, you can raise or lower Somfy rolling shutters to add or decrease sunlight inside your living room, kitchens, or any other part of the property. Big windows in particular benefit from rolling shutters, as the sturdy build makes for a great solution for glass surfaces with larger dimensions.
Smart Motorized Blinds
The Wi-Fi and smartphone connectivity features of Somfy window blinds make them excellent for both residential and commercial properties. You can skip the classic remote handset and just use your phone as the main means of control of the motorized Somfy blinds. With the high-tech features, you can also integrate these wireless blinds with smart home systems. That means voice control options that let you simply order your blinds to open or close as needed.
Motorized Shading Solutions For Outdoors
For backyard pool areas or patios and decks, motorized Somfy canopies and screens offer a lot of benefits. Motorized awnings match well with outdoor shade structures, and pergola screens can roll down and provide protection from sunlight coming at you from different sides. Motorized deck canopies and gazebo shades all add to the utility of outdoor lounges and make it much more pleasant to spend time there regardless of the hour. For Agoura Hills patios, motorized covers with Somfy controls offer reliable solutions made from quality materials. And with waterproof options, you can have motorized outdoor shading solutions suitable for all weather.
Agoura Hills's Best Somfy Blinds and Shades Options
Discuss more details and get a free quote on motorized shading solutions for Agoura Hills or other nearby areas. See what type of blinds, shades, or shutters give you the best bang for your buck, and what remote control features provide the most convenience. Choose designs that complement décor and give the different rooms or outdoor spaces a decorative look. Call to schedule your free consultation appointment and get started looking at different Somfy motorized solutions.