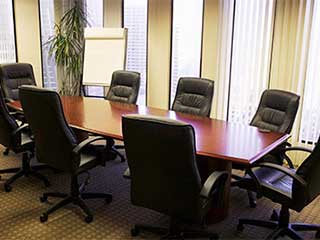 We offer an amazing selection of vertical blinds to anyone near Agoura Hills and its surroundings. You can make real improvements to your property by choosing from our range of custom vertical blinds. Control every aspect of your new window coverings by opting for different materials such as vinyl, wood (real/faux), and aluminum. Choose a color that suits every room in your house, or create professional-looking vertical blinds for office windows. Agoura Hills Blinds & Shades offers free consultations all across the local area. You can easily get expert advice and recommendations on new custom made vertical window treatments. Our prices are low, and our vertical blind installation services make it quick and easy to start benefiting from your investment. Speak with our Agoura Hills-based blinds specialists today to find out more.
Cheap Vertical Blinds For Your Home
Our amazing rates make it easy to choose custom vertical blinds for windows all over your property. When you know you're getting a great deal it means you're comfortable investing in the high-quality products we provide. Of course, we provide a huge range of different combinations. If you're looking for vertical blinds with curtains, we have plenty of choices for you to pick from, and it's easy to design the ideal new window coverings. Simply choose from our wonderful range of fabrics that are sure to suit every room in your home. Don't just try to imagine them. You can also get vertical blinds made for sliding glass doors. That way you'll have covers that block sunlight a lot more efficiently on these large surface areas. Arrange a consultation at your Agoura Hills home/office and we'll send an expert over with examples of what we can do for you.
Great Deals On Custom Blind Sizes
One of the most popular places to install vertical blinds is in your living room. Many Agoura Hills homes feature large windows, which provide a lot of natural light. This is great most of the time, but it also makes it easy for people to see into your home, and it can leave you exposed to dazzling sunlight on bright days. We offer vertical blinds for sliding glass doors, which are often one of the most problematic spaces to cover. Our selection of vertical blinds for patio doors is also ideal when you need an easy-to-use window covering that keeps out prying eyes and sunlight. All of our custom-designed products are specially measured for a precise fit. Combined with our highly professional vertical blind installation process, you can be sure that your new vertical blinds will bring satisfaction from day one.
Affordable Motorized Vertical Blinds
High-tech electric window treatments don't have to come with a high price tag. Our selection of motorized vertical blinds is perfect for introducing a little modern convenience into your life without breaking the bank. We provide a range of wireless and wired power choices. With our huge range of attractive designs, it's easy to pick the perfect remote control blinds. You've got a number of choices in terms of controls. Wireless motorized vertical blinds can respond to the classic remote handset or your smartphone using Wi-Fi connectivity. You choose the method, we install and connect it.
Choose Vertical Blinds For Your Agoura Hills Windows & Doors
We offer the best way to get started with your new vertical blinds. If you'd like to improve your home or workplace with custom vertical blinds, then all you need to do is get in touch with our Agoura Hills-based representatives. They'll provide free quotes and even in-person consultations, so you can decide on the perfect coverings for every window. What are you waiting for? Find the ideal vertical window treatments for your business or home today.