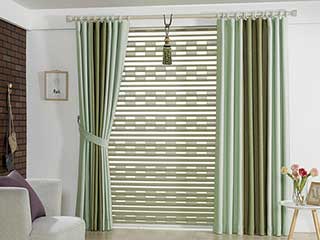 Don't you just hate coming home from a busy day at work only to have the doorbell ring and you suddenly have unexpected guests? You can't even pretend you're not home because they saw you as they passed your window. Well, with privacy blinds and other blackout window treatments, you can avoid this awkwardness.
Custom Privacy Blinds
What you need is some new blinds or shades for a little bit of privacy. You can park your car in the garage and close your blinds. Keep the TV's volume on super low and wait for the uninvited door knockers to leave. Agoura Hills Blinds & Shades is the company to call in Agoura Hills because we understand the need for a little alone time and privacy. We can help you cover up your windows so you decide when your home is open to the outside world, and when it isn't.
Blackout Blinds & Shades Options
In sunny Agoura Hills you want window options that offer you privacy and relief from the sun. Blackout blinds are a great option as it completely shuts out the outside world. The materials come in different colors and textures that will fit right in with the rest of your décor and by keeping the sun out of your home during the hottest part of the day, you'll keep your home cooler and save on energy costs. The bonus is that you will also be blocking the view into your home so you can breathe easier in more ways than one.
Consider Blackout Curtains
If you prefer the traditional look of curtains then check out our range of blackout curtains. These curtains usually feature multiple layers that completely block out sunlight and keep your home cooler in summer. They're also another great option to maintain your privacy without boarding up your windows.
Vertical Blinds For Long Windows & Sliding Doors
Different people like different coverings on their windows. some love the look of vertical blinds while others find them more suitable for businesses. Then again, some people want to cover their portals with horizontal shades such as roman shades. Both options can be matched to suit your furnishings or they can stand out as a focal point in your home or business. Whichever ones you choose, you can be sure that you can block your windows and enjoy your privacy.
Window Shutters – Security And Privacy
If you want your privacy with a touch of extra security, take a look at our range of plantation shutters. Not only is this a great option for your privacy, but you can also lock them into place when you're not home and keep your home a little more secure. These quaint looking window shutters are suitable for small and large windows alike and doors are no problem either. What's more, they look great and they are quite durable so they can last for years.
Book a Free Estimate on Privacy Blinds
In Agoura Hills, we are the company to call to install the best blinds or shades for privacy. With a great range of options to choose from with different styles, patterns, colors, and materials, you won't be short of choices. We can custom make anything from blackout curtains to plantation shutters to motorized vertical blinds even. You just tell us what you're looking for and our blinds installers will take care of the rest.