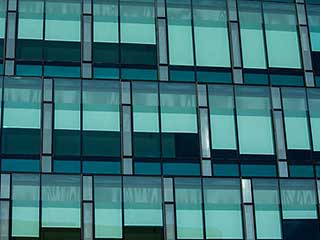 Windows connect the indoor environment of an office to its external environment. Most of the time, this is good and certainly welcome. Sunlight boosts alertness and seeing the sky or the external world creates a sense of peace and tranquility, boosting morale. Even though having the sunshine pass through is mostly okay, it still needs to be regulated with the use of window treatments. Unfiltered sunlight tends to be very harsh on the eyes as well as the skin. When your work station gets hit at just the right angle, glare will prevent you from doing your best work. If you're particular about your office furniture, it could also accelerate bleaching and aging of your finish, paint or leather.
The Commercial Solution
Because offices need to have precise control over the amount of light that they let in, window sun shades should be utilized. If there is a particular window where sun shines extra brightly, the window blinds on that area can be adjusted to filter and diffuse the offending rays, creating a softer lighting effect. These covers also work well for room darkening purposes especially when there is a need to use the projector.
Darkening blinds can also be installed in the board room where presentations are frequent. These blinds also serve to provide privacy in an office that has glass walls.
If you prefer, you can choose from the many different types of covers we carry at Agoura Hills Blinds & Shades like the roman, layered, sheer, cellular or roller shades. Just choose the style that will work best for your office's particular needs.