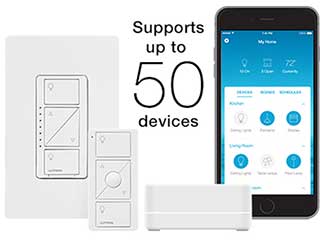 You can upgrade a lot more than just aesthetics with motorized window shades. Lutron wireless smart window coverings give you ways to improve the energy efficiency, as well as sunlight diffusion capabilities of your window treatments. You can get each set custom made to the specific measurements of each window. With motorized window shades, you've got all sorts of wireless control features to pick from as well. From dimmers and wall switches to Wi-Fi and Bluetooth or even smartphone connectivity, Lutron shades offer the best control methods for motorized window coverings. And the variety of styles makes for all sorts of décor additions too. Blackout covers or sheer motorized shades can all contribute to the look and utility of the room. As a leading source for Lutron shades near Agoura Hills, you can come to us for free consultations and advice on all such products.
Why Choose Motorized Window Shades
Convenience doesn't illustrate well enough the benefits of Lutron shades motorization features. Automating the temperature control and lighting of rooms using natural sunlight lets you save money on energy with efficiency. It also lets you do away with trivial tasks by letting the Lutron system control the motorized window shades for everything. Want more light? Push a button and that's it. Or even better, with programmed schedules, you can also have your Lutron shades adjust to fit the time of day. Choose when you want more light and when you prefer privacy. You can also go with special sensors that measure temperature and brightness to maintain a set ideal. Motorized Lutron shades give your Agoura Hills property (residence or business) a major improvement with a restrained and elegant aesthetic. You can get more information on motorized shade options via our free consultations.
Best Smart Lutron Shade Solutions in Agoura Hills
Whether for home or business windows, motorized Lutron shades can offer fantastic additions to your property. Besides the innovative automation technology and wireless remote control features, you can also create a very clean and neat aesthetic with these window coverings. Lutron shades give you a wide range of choices, with custom made to measure designs that you can alter as you wish. You can match and complement different décors and add any features you want to your order. So book a free estimate and learn more about Lutron shades from Agoura Hills motorized window covering specialists near you!